Middle School Leadership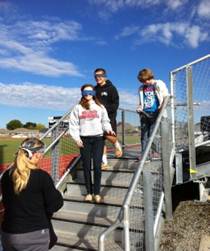 Leadership students participate in interactive discussions and activities regarding ways to prevent bullying and how to promote a safe and welcoming environment in school. Leadership also trains students in peer mediation and conflict resolution skills. Lunch time activities are student-led, which allows for an open and honest discussion about school safety. Students learn appropriate responses to bullying as well as, organizing fun activities, such as Mix-It-Up Day, writing slogans, making posters and signing pledges for violence prevention. Students may also participate in community-service projects.
Our school's bullying prevention program takes a proactive approach, addressing the issues before they become problems. It also addresses the fact that we know bullying occurs in schools, and what steps we can take as a school to help solve the problem.
The teacher and school counselor work together on a variety of lessons to teach throughout the year that center around bullying behavior, bystanders, allies and what to do if you are a target. The lessons also involve the different types of bullying such as physical, verbal, social, cyber and sexual harassment. Lessons include video clips from real-life situations, essays and writing prompts, student and teacher surveys, role-playing scenarios, technology lessons and appropriate computer usage, assemblies; all geared to address and eliminate bullying behaviors at Hilldale and beyond into the student's lives outside of school.
The Leadership Class has been a huge success at our school and we will hopefully continue to see bullying decrease in the years to come. A safe and caring environment contributes to a successful school.
Pink Out Day for cancer awareness

Stand for the Silent Assembly

Mix It Up Day lunch activity

Students sign "No Bullying Pledge"